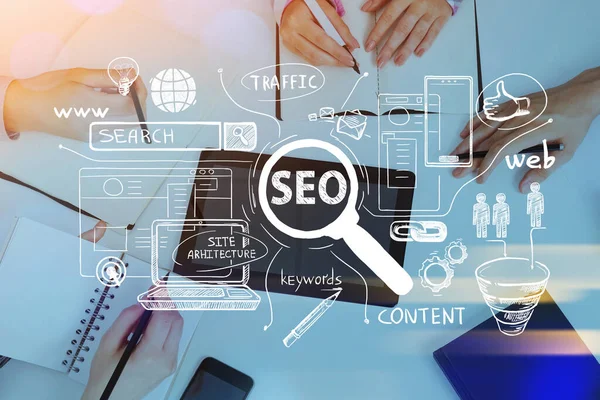 Elevate your online presence with our expert Search Engine Optimization (SEO) services. Our dedicated team of SEO professionals is driven by a passion for helping businesses thrive in the digital realm. With years of experience and a commitment to staying ahead of the curve, we tailor data-driven strategies to boost your organic search rankings, drive targeted traffic, and maximize conversions. Let us guide you through the intricate landscape of SEO, transforming your website into a powerful online asset.
At E-Market UAE, we specialize in Search Engine Optimization (SEO) that goes beyond mere keywords and rankings. Our seasoned team of SEO experts understands that successful SEO is rooted in a deep understanding of your business and audience. With a track record of delivering results, we craft custom SEO strategies that align with your goals, ensuring your website stands out in the competitive digital landscape.
Our SEO approach involves meticulous keyword research, on-page optimization, technical enhancements, and authoritative link building. We understand the importance of user experience and employ strategies to improve site speed, mobile responsiveness, and overall usability. Through regular monitoring and data analysis, we adapt our strategies to evolving search engine algorithms, ensuring consistent growth in your online visibility.
What sets us apart is our commitment to transparency and education. We keep you informed about the progress of your SEO campaigns, providing comprehensive reports that showcase the impact on your website's performance. Our holistic approach to SEO not only focuses on search engine rankings but also emphasizes delivering value to your audience through engaging, relevant content.
Partner with E-Market UAE to unlock the true potential of your online presence. Our SEO services are designed to drive meaningful results, foster brand authority, and create long-lasting connections with your target audience. Let us be your digital growth partner, guiding you toward sustained success in the dynamic world of search engines.